In 2021 heeft Loyal Interim het specialistisch recruitmentbureau voor IT-professionals PHIND overgenomen. Loyal Interim werft, selecteert, begeleidt en plaatst toptalent bij haar partners in zowel de private als publieke sector. Loyal Interim is gespecialiseerd in Risk & Compliance, Legal, business IT & Data. De overname betekende voor Loyal Interim ook een overstap naar de recruitmentsoftware van Bullhorn. Als financieel pakket gebruikt Loyal Interim AFAS. Voor de gegevensuitwisseling tussen Bullhorn en AFAS koos Loyal Interim voor de Solid Online Connector.
Bullhorn is wereldwijd marktleider in CRM- en operationele software voor de recruitmentbranche. De geavanceerde technologie voor datamanagement en klantinzicht helpt organisaties om kandidaten en klanten te vinden en te binden.

AFAS – Dé ERP totaaloplossing voor de Flexbranche. Krijg grip op kandidatenbeheer, plaatsingen, contracten, facturatie, verlonen en marge met de totaaloplossing van AFAS voor de flexbranche.
Zowel Loyal Interim als PHIND gebruikten ieder een ander recruitment softwarepakket. Voorafgaand aan het realiseren van de Connector koppeling, verzorgde Solid Online voor Loyal Interim de datamigratie van de 2 oude softwarepakketten naar Bullhorn. Middels een Weekend Migratie, waarbij in de week erna nog enkele velden zijn bijgewerkt op verzoek van de klant, was alle data snel beschikbaar in Bullhorn en kon Loyal Interim verder werken in het nieuwe pakket, waar alle gegevens op de juiste plek te vinden waren.
De Connector koppeling tussen Bullhorn en AFAS zorgt voor het uitwisselen van kandidaatgegevens en plaatsingsinformatie. De koppeling is een zogenoemde tweewegkoppeling. Dat betekent dat als er een wijziging is in een kandidaat of plaatsing in Bullhorn, deze wijziging automatisch ook in AFAS te zien is, maar ook andersom. De Connector zorgt ervoor dat in beide systemen de gegevens altijd up to date zijn en zo weten alle medewerkers van Loyal Interim dat ze werken met de meest recente gegevens.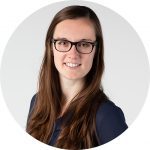 Martine Verhave
Product owner
Solid Online
"In de samenwerking met Loyal Interim was de onderlinge verstandshouding erg goed. Formeel zijn zij de opdrachtgever en wij de leverancier, maar in het project voelde we ons echt één team. Dat werkte heel prettig en motiverend en dat heeft natuurlijk een positief effect op het eindresultaat."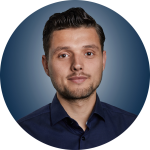 Roel ter Horst
Business Controller
Loyal Interim
"Solid Online heeft voor een goede begeleiding gezorgd tijdens onze datamigratie en het bouwen van de Connector. De implementatie verliep snel en soepel, ondertussen is goed naar onze specifieke wensen geluisterd. Ik kan iedereen Solid Online aanraden voor een samenwerking."
Loyal Interim is opgericht vanuit de overtuiging dat we in Nederland duurzamer om kunnen gaan met inhuur, detachering en consultancy. Op meerdere fronten is deze wereld aan verandering toe, in het bijzonder als het gaat om openheid en een oprechte manier van zaken doen. Transparantie is daarom ook het fundament van Loyal Interim. Dit levert voor zowel werknemer als opdrachtgever aanzienlijke voordelen op. De belangrijkste: loyaliteit die ontstaat bij hun mensen. Loyal Interim zorgt altijd voor de juiste match. Met slimme tooling en een groot netwerk selecteren zij de beste professionals voor de opdracht, die samen de juiste mix vormen aan talent, vaardigheden en ervaring om het werk goed te doen. Het zijn professionals die projectteams perfect aanvullen. Want alleen dan ontstaat synergie tussen de teamleden, wat bijdraagt aan een optimale samenwerking. Loyal Interim heeft een netwerk van professionals dat constant wordt aangevuld met nieuw talent. Zo werken zij bijvoorbeeld intensief samen met studie- en studentenverenigingen door het hele land. Loyal Interim houdt de ontwikkelingen in de markt in de gaten. daardoor kunnen zij snel schakelen en zijn ze een flexibele partner.
Is uw bedrijf ook toe aan een soepel verloop tussen uw applicaties?
Wij vertellen u graag wat Solid Online voor uw bedrijf kan doen!