Marco Boomsma en Pieter Hoekstra brachten samen een toost uit op de samenwerking! Het partnerschap tussen Bullhorn en Solid Online is een feit. De eerste klanten maken inmiddels al gebruik van de koppeling. Met deze snelle verbinding tussen verschillende systemen blijft de beschikbare data altijd actueel en correct en handmatig overtypen of Excel lijsten zijn niet meer nodig. 
Bullhorn is wereldwijd marktleider in CRM- en operationele software voor de recruitmentbranche. De geavanceerde technologie voor datamanagement en klantinzicht helpt organisaties om kandidaten en klanten te vinden en te binden. Meer dan 10.000 klanten vertrouwen op het cloudgebaseerde platform van Bullhorn om sales te stimuleren, dienstverlening naar een hoger niveau te brengen en het recruitmentproces van a tot z te stroomlijnen. Met een hoofdkantoor in Boston en kantoren over de hele wereld, is Bullhorn nog altijd onder leiding van de oprichter en werkgever van ruim 1.000 medewerkers wereldwijd. Lees meer op www.bullhorn.com of volg @Bullhorn_NL op Twitter.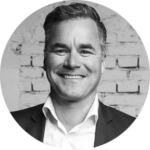 Marco Boomsma
Sales Director EU bij Bullhorn
"Partnerships in het software landschap kunnen soms erg ingewikkeld zijn. Dat is het niet als beide proposities perfect op elkaar aansluiten. Vanuit Bullhorn leveren wij een uitstekend gedocumenteerde API waar Solid Online perfect mee om weet te gaan. Zij handelen accuraat, zeggen wat ze doen en doen wat ze zeggen. Dat brengt mijn team ertoe om Solid Online aan tafel te brengen bij onze klanten, zonder dat wij daar een belang in hebben. Zij gaan slagvaardig om met de integratie behoefte van onze klanten waarvan ik ervaar dat de vraag naar het integreren van de verschillende software tools sterk is toegenomen."
Is uw bedrijf ook toe aan een soepel verloop tussen uw applicaties?
Wij vertellen u graag wat Solid Online voor uw bedrijf kan doen!