Trend People heeft vorig jaar de stap gemaakt naar de frontoffice software van Carerix. Voorwaarde was dat de nieuwe frontoffice gekoppeld kon worden aan hun bestaande backoffice Easyflex. De Solid Online Connector was hiervoor de juiste oplossing. Solid Online heeft met zowel Carerix als Easyflex een partnerschap waardoor Trend People direct aangesloten kon worden op de Connector voor de koppeling tussen Carerix en Easyflex.
Wij spraken Anette Huisman en Sandra Langelaar, beiden regiomanager bij Trend People, en vroegen hen hoe ze de vernieuwing ervaren hebben. Sandra: "Voorheen werkten we maar met één systeem, Easyflex. Dit systeem gebruikten we als backoffice en als frontoffice. Maar we hadden behoefte aan meer frontoffice functionaliteiten en zo zijn we uitgekomen op Carerix." Anette: "Voor ons was het heel belangrijk dat we Easyflex konden behouden als backoffice voor onder andere het aanmaken van contracten en het verlonen van de flexwerkers. Omdat we gewend waren alles in een systeem te doen, was het essentieel dat alle gegevens zonder gedoe naar Easyflex zouden gaan, zodat we niet zouden moeten gaan overtypen." 
Carerix
– Gebaseerd op jarenlange ervaring biedt Carerix een modern platform dat het gehele proces van werving & selectie, uitzenden en detachering ondersteunt, vanuit één systeem 

Easyflex
– Hét all-in-one systeem voor de flexbranche voor onder andere verloning, facturatie, planning en datavisualisatie
De Solid Online Connector zorgt voor een snelle en foutloze gegevensoverdracht tussen de twee systemen waardoor de gegevens in ieder pakket te allen tijde actueel zijn. De medewerkers van Trend People merken niks van de tussenliggende Connector. Anette: "Vanuit Carerix zetten onze medewerkers de gegevens klaar en via een druk op de knop worden ze doorgestuurd naar Easyflex. Heel soms komt bijvoorbeeld een plaatsing niet goed door, maar dan worden we altijd direct goed geholpen door de supportafdeling van Solid Online."
Wat doet de koppeling precies?
Gegevens van kandidaten, opdrachtgevers en contactpersonen worden door Trend opgevoerd in Carerix. Bij de realisatie van een plaatsing worden deze gegevens automatisch via de Connector overgezet naar Easyflex. Ook de plaatsing wordt via deze integratie aangemaakt in Easyflex, waarbij direct de loonopgave gegevens en loontijdvak gegevens van een flexwerker worden toegevoegd. Informatie over de status van de gegevensoverdracht wordt teruggekoppeld aan de gebruiker in Carerix, zodat de medewerker in één opslag kan zien of de gegevens succesvol zijn doorgezet naar Easyflex, op welk moment de gegevens voor het laatst zijn gesynchroniseerd óf welke actie nog benodigd is om de gegevens succesvol door te zetten naar de backoffice. Gegevens die op een later moment worden aangepast of verrijkt in Carerix worden binnen enkele minuten automatisch bijgewerkt in Easyflex.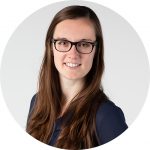 Martine Verhave
Senior consultant Solid Online
"Trend People maakt nu een aantal maanden gebruik van de koppeling tussen Carerix en Easyflex voor de uitwisseling van plaatsing-, kandidaat-, opdrachtgever- en contactpersoon gegevens. Gedurende het implementatietraject heb ik Sandra Langelaar en Anette Huisman van Trend People leren kennen als vriendelijke en hardwerkende dames, met hart voor de zaak. Zij hielden continue het bedrijfsproces van Trend People in hun achterhoofd bij de beslissingen die gemaakt moesten worden. Dames, bedankt voor jullie inzet!"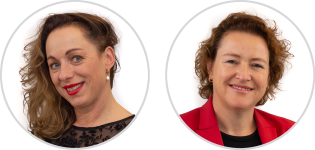 Sandra Langelaar en Anette Huisman
Regiomanagers Trend People
"We zijn zeer tevreden over de Solid Online Connector tussen Carerix en Easyflex. We hebben zo de voordelen van de uitgebreide frontoffice functionaliteiten van Carerix, en de vertrouwde backoffice features van Easyflex zonder dat we gegevens handmatig hoeven over te zetten. Voor de toekomst zien we meer mogelijkheden met de Connector. De heenweg van Carerix naar Easyflex is nu zo goed als volledig ingericht. Voor de terugweg van Easyflex naar Carerix hebben we al wat topics in gedachten, zodat het straks niet langer nodig is hier apart voor in te loggen bij Easyflex. Denk bijvoorbeeld aan debiteurenbewaking met behulp van taken of het bijhouden van het fasensysteem."
Trend People is een betrokken, toegankelijk en herkenbaar uitzendbureau dat diverse vormen van dienstverlening aanbiedt: uitzenden, detacheren, werving & selectie en payrolling. Trend People is actief binnen de sectoren kantoor, zorg, logistiek & techniek. Het draait bij het bedrijf altijd om een snelle en vakkundige bemiddeling met kwaliteit als uitgangspunt. Met persoonlijke aandacht en oprechte interesse in zowel kandidaten als in werkgevers, weet Trend People keer op keer de meest succesvolle match te maken. 
Is uw bedrijf ook toe aan een soepel verloop tussen uw applicaties?
Wij vertellen u graag wat Solid Online voor uw bedrijf kan doen!