Will you become our new colleague?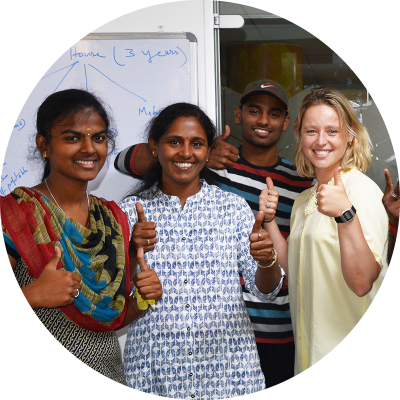 Solid Solutions International is looking for a Senior Software Developer Do you want to work

Align your skills and experience with the job description. Be specific about projects you've worked on or managed

Once pre-selected, you will first speak to a manager. This interview focuses on your skills in detail



The final round is a technical test, including a conversation with the director of the Indian office
A place to stay, a place to learn,
a place to grow
We want to be the company you want to work for

International exposure
Develop your cross-cultural and English language skills with the possibility to visit abroad



Self development
Online and in house training for personal growth. Hands on coaching and support



Team work
Facing challenges together with fellow team members local, online and overseas


Agile
Solid Solutions International works according to the Agile scrum methodology together with international clients

Technical training
Extensive training on the job as well as room for developing your cutting-edge skills

Good location
Conveniently located in Guindy Chennai and Erode. With opportunities to work from home
"Solid has developed my skills in so many areas"
"It has been an amazing journey so far with Solid Solutions International Pvt. Ltd. since the year 2005 in Chennai. Working at Solid is a great pleasure, Solid has developed my skills in so many areas including problem-solving, prioritizing my work under pressure and team leading capabilities. What I enjoy most about Solid is the dynamism of work, I'm truly enjoying to work in such a family & friendly atmosphere, product of great teamwork. We are a great team and what motivates me the most is the feedback from our clients."