Tankpersoneel/Ready4You (Petrol station personnel) provides a complete range of services when it comes to personnel placement. Thanks to years of experience in the industry and the cooperation with all the big brands, such as Shell, BP, and Esso, Tankpersoneel / Ready4You knows exactly which employee is the right fit for which job offer at these petrol stations. 

Solid Online has built a solution tool for Tankpersoneel / Ready4You. In this tool, the hours and expense claims from the planning module of Plan4Flex can be uploaded. Then, these hours and expense claims are automatically sent as an XML invoice file to the financial software Exact Online. Once it has arrived in Exact, the file is automatically formed into an invoice in the desired format of the receiver. From here, the invoice can be sent to the customer of Tankpersoneel / Ready4You.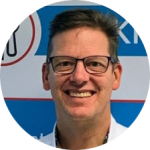 Marco Lub
Operational manager at Tankpersoneel / Ready4You
"Solid Online has proactively thought about our wishes and has always been very alert and attentive towards adjustments. Because of this, we have received a simple, but very effective custom tool that does what was promised in advance. Besides the expertise, we also noticed and appreciated the involvement and kindness of the employees of Solid Online."
Is your company also ready for a smooth transition between your applications?
We would love to tell you what Solid Online can do for your company!