Splendit has chosen for Solid Online! Via the Transformer their job offers are now automatically created in Carerix. 
Splendit, a consultancy company specializing in IT, was founded in 1999. Splendit has a qualitative and close cooperation with nearly all major IT consultancy companies in Belgium. This ensures that they receive more than 80% of all outstanding applications on the Belgian market. Thanks to this collaboration, Splendit can offer its consultants many different, challenging, and diverse projects. As a result, a lot of consultants find their way (back) to the company. Not only does Splendit offer a lot of variation, but the consultants are also put at center stage.
Splendit has chosen for Solid Online
The customers of Splendit send an e-mail with the job offer details. Via the Transformer, the customer and the position are recognized, by which a job offer is automatically created in Carerix.

How does the automatic creation of job offers work?
With the Solid Online Connector, the agencies, contacts and positions from Carerix are sent to the Transformer. E-mails from the agencies are automatically forwarded to the Transformer by Splendit. Since the clients are known, these can be recognized with the e-mail address of the original sender. Then the position from the e-mail subject is checked against a translation table. The translation table contains the existing positions from Carerix with possible customer names. When all data is known in the Transformer, the job offer is automatically created in Carerix. If any information is missing, Splendit can fill this out in Carerix, or create an extra translation table entry in the Transformer, after which this customer or position will from there on be processed into a job offer.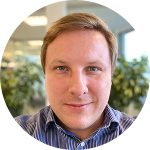 Toni Sommerfeld
Contracting & Quality Manager at Splendit
"From day one, we have experienced a very professional cooperation with Solid Online. All agreements are followed, the deadlines are realistic, a no-nonsense approach. In the test phase, all issues were taken up and resolved very quickly. After completing this project, we will certainly look forward to the following implementations of tailor-made developments. The sky is the limit. In the long term, we see a real partnership that both parties can benefit from."
Is your company also ready for a smooth transition between your applications?
We would love to tell you what Solid Online can do for your company!