Cheers! Due to the intelligent lockdown, we raise the glass together through the computer screen! We have something to celebrate: Solid Online now also facilitates the intercompany process and invoicing for ActiefWerkt! The Transformer ensures that the invoices of self-employers and on-lenders are also generated and sent. 
Actief Werkt! has been active in the temp agency industry for more than 25 years. The company is part of Actief Group, an international company with an extensive network of branches in the Netherlands, Belgium, Germany, and Austria. Actief Werkt! is an employment agency with a unique personal approach. The temp colleagues of Actief Werkt! are doers, people with an education up to and including MBO-plus level. Personal contact is central to the corporate culture of Actief Werkt!. They speak the language of their temp colleagues and know what moves them. With more than twenty years of experience with personnel in the segments' logistics, production, services, agriculture, and food, Actief Werkt! understands the needs of their customers. They use flexible labor and the knowledge of HR to help their customers move forward.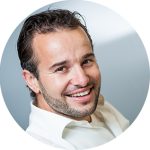 Theo Kooijmans
Application Architect Actief Werkt!
"Solid Online gives us the opportunity to digitize the timesheet output and invoices for practically every customer. We set up automatic payment for customers in no time. We can also arrange a solution for complex billing issues in an instant. With the recipe settings in Solid Online, we can easily define exceptions per customer. In addition to the standard staffing processes and Invoicing, we have recently invested in the optimizing the intercompany and freelance process together with Solid Online. By generating and sending invoices on behalf of the freelancer and intercompany party, we have been able to make a big step. In terms of content, the invoice corresponds to the specified hours and so it can be processed fully automatically. This allows us to quickly generate invoices and most importantly, pay them! By implementing Solid Online we have implemented flexibility as a standard"
Is your company also ready for a smooth process of remuneration and invoicing? Please contact us via the button below. We would be happy to tell you about what Solid Online can do for your company!