Ruimbaan has opted for the Solid Online Connector between the recruitment software called OTYS and the back-office software called Freepack. The extended standard package for financial and temp administration of Freepack has been added for Ruimbaan to the Connector. A significant amount of time has been put in realizing this connection, because a number of specific translation tables and conditions had to be worked out for this. The patience was rewarded with a dynamic solution that exactly meets the wishes and cannot be found anywhere else. All data of placements, candidates, clients, and contact persons are immediately visible and are exactly the same in OTYS and in Freepack, without the manual retyping procedure. This reduces the administrative burden for Ruimbaan and prevents errors from happening.
Every day, the recruiters of Ruimbaan are putting hundreds of temps to work in different sectors in the area of Gouda, Rotterdam, and Alphen aan den Rijn. The company has been around for 30 years, during that time a lot has changed in the temporary agency world. For example, in the early days the data from job seekers and companies was collected in an actual card catalog. Despite the current digital era, personal contact is the most important thing for Ruimbaan. After all, temporary agency work remains human work. Ruimbaan invites applicants for an intake interview so that they get to know them well. Since Ruimbaan also knows its customers very well, the employment agency can make a good match. In addition, they are creative in coming up with solutions for work processes within organizations. The slogan "Getting the Job Done – Thinking Differently, Working Differently" fits perfectly in all of this.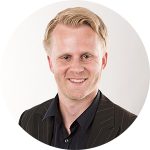 Patrick Verkaik
Marketing Manager at Ruimbaan
"Thanks to Solid Online we have been able to create an interface between Freepack and OTYS. Now we can transfer candidate data, customer data and placement data from OTYS to Freepack. This will save us a lot of valuable time. During the process we were well guided by Richard Baas, who I would like to thank for all the time invested in the project. Because of the differences between the programs, we ran into all kinds of problems that were eventually resolved, with this beautiful interface as the result."
Is your company also ready for a smooth transition between your applications?
We would love to tell you what Solid Online can do for your company!