Graydon and Solid Online have entered into a partnership! From now on you can use the Graydon services integrated into your own system! The Connector is now making it possible, from your own system, to automatically enrich customer data with the data from the Graydon database. Furthermore, it is possible to generate a credit report with only one click, which is directly saved in the customer file.
It is no longer necessary to log into Graydon for this, you can now easily submit a request to Graydon directly from your own system. The Solid Online Connector then processes this request. The data is retrieved from Graydon and is compared to the data from your own system. Then, the customer card is updated according to your own wishes. It is possible to set up per field whether overwriting is allowed. Old values can also be saved in notes. All fields are sent to your system in XLS sheet as well.
Data is retrieved and complemented to support the prospect-to-cash processes. This concerns data about prospects, clients and contact persons. Included additions are, for example, risk indicators (credit limit, payment score, chance of bankruptcy and closedown), business profile and corporate relations, contact details and authority to sign.
With this option of automatic enrichment of your data, your system is becoming more and more complete without the risk of errors. The partnership between Graydon and Solid Online offers a valuable addition to your system.
Read the  press release about the partnership (Dutch)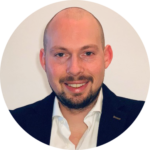 Martijn Roos
Senior Account Manager at Graydon
"The collaboration between Solid Online and Graydon is a perfect match. Both at Solid Online and at Graydon we are busy with data all day and therefore we speak the same language. Solid Online is the missing link between the Graydon database and all possible software packages in the temp agency industry. "
Graydon's goal is to create a playing field where organizations can flourish and economies are thriving.
Reliable business information
In a world dominated by technology, it is Graydon's ambition to distinguish itself through an innovative capacity and by delivering reliable business information.
Valuable insights
Graydon ensures that your data is cleaned up, validated and enriched with information from different other sources. From there, valuable economic, financial and commercial insights can be generated that enable you to make better business decisions.
Reinforce your competitive position 
Graydon strives to help their customers make the right business decisions on a daily basis by using the correct information. In addition, they help you to identify trends and market opportunities and how to respond to this, in order to improve your competitive position.
Is your company also ready for a smooth transition between your applications?
We would love to tell you what Solid Online can do for your company!