Marco Boomsma and Pieter Hoekstra made a toast to the collaboration! The partnership between Bullhorn and Solid Online is a fact. The first customers are already using the link. With this fast connection between different systems, the available data is always up to date and correct and manual retyping or Excel lists are no longer necessary.
Bullhorn is the global market leader in CRM and operational software for the recruiting industry. Advanced data management and customer insight technology helps organizations to find and engage candidates and customers. More than 10.000 clients rely on the cloud-based platform of Bullhorn to stimulate sales, bring service to a higher level, and to streamline the recruiting process from start to finish. With headquarters in Boston and offices all over the world, Bullhorn is still led by the founder and employer of more than 1.000 employees worldwide. Read more on bullhorn.com or follow @Bullhorn on Twitter.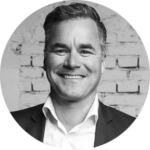 Marco Boomsma
Sales Director EU at Bullhorn
"Partnerships in the software landscape can sometimes be very complicated. This is not the case when both propositions perfectly match each other. From Bullhorn we provide an excellent documented API where Solid Online knows how to deal with perfectly. They act accurately, say what they do and do what they say. This leads my team to bring Solid Online to the table of our customers, without us having any concern in it. They are resolute in dealing with the integration needs of our customers, of which I experience that the demand for integration of the different software tools has increased significantly."
Is your company also ready for a smooth transition between all your applications?
We would love to tell you what Solid Online can do for your company!