Our colleague Félicienne Minnaar was in Mozambiqye last year to assist at Favela United. This is former Heerenveen soccer player Patrick Hoeps' foundation. Last week an article appeared in paper 'de Heerenveense Courant' last week, regarding the foundations activities. Félicienne looks back happily on her experience in Africa.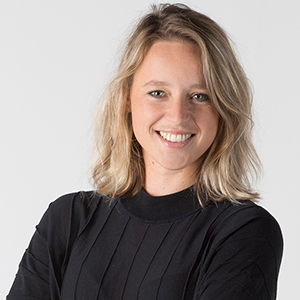 Could you explain, what have you exactly done in Mozambique?
I have been active at a soccer academy in Maputo for three weeks, to provide training. Favela United is a social soccer project, where in the townships of Maputo soccer practices and other events (tournaments etc.) are organized. Besides soccer, the players are also being taught life skills and progress on the soccer field and school results are monitored and discussed with parents/family.
How did you come up with the idea?
I was working at a restaurant at that moment when one of my customers told me that he worked for UN Habitat in Mozambique. I told him I had recently graduated, a master in International Development Studies, and was interested in sport for development projects. He knew Patrick Hoep (founder Favela United) and got me in touch with him. When I decided to join cycle for plan (cycling tour in Zambia- where we collected money for local projects that fight against child marriages), I immediately arranged that after Zambia I would travel on to Mozambique.
Could you tell something about your own soccer background?
I joined JAC (The Hague) when I was five, where I played in a boys' team until I was seventeen. After that, I played in England at Arsenal Ladies for two years and then I have played six seasons for FC Twente. At the moment I train the second team of the ADO Den Haag Women and I still play futsal (ZVV Den Haag) and field soccer (SVC'08)
You gave training to both boys and girls, is it common for women to play soccer in Mozambique?
In Mozambique it is not very common. De fields in the fields in the townships are occupied from early in the morning until late at night. People are continuously active (a lot of youth, but also adults), playing soccer or running (especially in the evening). But the vast majority are boys or men. At Favela United they first started with boys' teams, and later they also started working with the girls. Initially with players between the ages of fifteen and twenty- five. This had a very positive impact on the community. In other co-operation projects in which Favela United is involved (just outside the city, in the countryside), they have always asked the local girls to participate in the activities. In the past, they mostly stayed at home. There they noticed that when they came back to the girls still remained involved in the projects.
When I got there, I was the first female coach who was active on the project. After I left, two girls also became active as community coaches at favela United. These girls now work together with the other community coaches and, among other things, provide training to the younger girls' team, which started after I had been there. The boys and girls teams also sometimes train mixed. Patrick had noticed that this had a very positive effect. Because this gave the girls a different status within the community. That other than taking care of the family/household, they are seen as soccer players on the soccer field, no different from the boys.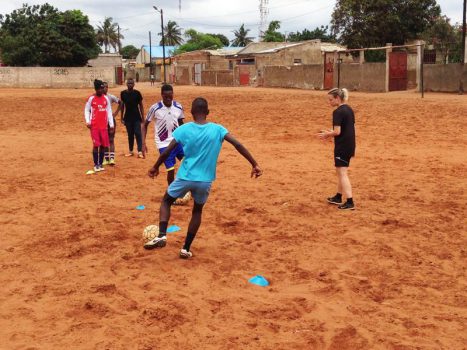 What was your goal for this trip?
I was very curious beforehand about the way soccer is experienced in Maputo/Mozambique. I thought it was a privilege to have the possibility to be temporarily involved in the community. I mainly wanted to convey that soccer is about having fun together. That everyone is welcome to join on the field, and is accepted within the team, but you have to work together as a team in which everyone plays a role. I have tried to teach the youth a little bit of my own experience as a soccer player. To tell them that in the Netherlands it is possible to play soccer professionally as a women. To show that soccer is a sport for everyone.
Have you achieved that goal?
The fact that I, a female coach, was present, was actually immediately accepted. In Mozambique a trainer is called 'coach' or 'mister' and so from day one I was called: 'Mister Felicia', or simply 'mister'. To me, it was a compliment, because it meant that the players did not see me any different from the male coaches. I wonder whether the new coaches are also being called mister, or in the meantime they have introduced a female name for the trainers. I have had a lot of fun with the players. I have been able to be on the field a lot, and really felt that I was able to transfer some of my experience and knowledge. The players were very enthusiastic and interested.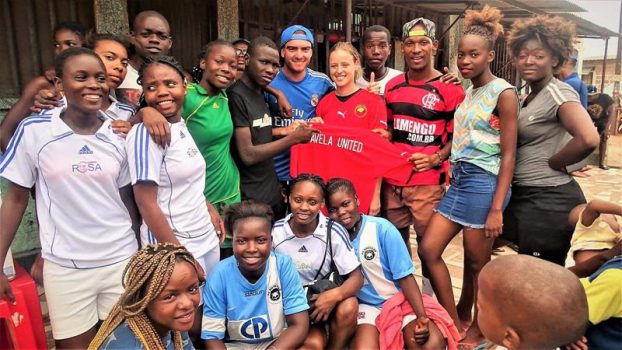 I personally also learnt a lot from my time in Mozambique. In a community where there are few possibilities. Where many families really only live within the township and hardly have any opportunities to see more of their city or country. The soccer field had a great meaning in this. A project such as Favela United, that takes care of equipment, organizing practices and train coaches has a huge impact in this community.
This because possibilities are created and children are able to play soccer safely, players feel included and are appreciated. Ever since the first time I stepped on the field, I felt at home. Soccer is such a strong connecting factor. When Jair (one of the community coaches) first greeted me, he said: "Welcome to our project, our movement" and it really felt that way. Soccer unites people and causes change within the community. What I especially will remember is the importance and the experience of soccer, experiencing soccer at its purest and having fun. That I was reminded about what soccer really is about, that I could fall in love with the sport again. The sport that I have been practicing all my life.