Solid Online has realized an interface between OTYS and HelloFlex for Teamflex. Data of candidates, customers, contact persons and placements are automatically exchanged between both applications at the desired time. The necessary information about the employment contract, the candidate, customer, and contact person are passed on to HelloFlex, so that the payment can take place in the back-office software.
Working on ambitions together has been the motto of Teamflex personnel services for the past 13 years. Central to this is a continuous search for development of talent. Training and guidance play an important role in the development of the temporary employees as well as the regular employees. By having its own driver training, professional educational partners, assessments, and job interviews, Teamflex is continuously expanding its flexible and permanent teams with motivated and qualified individuals. 
Teamflex is operating in different fields, including transport, logistics, civil and construction engineering and office personnel. The candidate is put central in the search for a suitable job to ensure that the candidate is matched to the right position. With additional training and/or courses, there are countless opportunities for candidates to develop further. As mentioned before, working on ambitions together!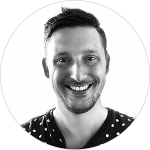 Michiel Kuiper
Senior Application Manager at Teamflex
"Almost everything is done digitally nowadays, but communication between different software packages sometimes still seems to be very difficult. Solid Online offers the solution and has helped us establish an interface between OTYS and HelloFlex. Through this interface, candidate, customer, and contact persons are automatically sent to Helloflex and even a contract in draft status is created. This saves us a lot of time, but the most important thing is that there are no mistakes at all in the process. During the project we were guided by Richard Baas. His knowledge of the different applications and the staffing industry contributed to a successful implementation."
Is your company also ready for a smooth transition between your applications?
We would love to tell you what Solid Online can do for your company!