Onze nieuwe IT Architect Bert Kamphuis is voor Solid Online geen onbekende. Jarenlang werkte hij bij USG People (nu RGF Staffing), een van de grootste klanten van Solid Online. Daar vormde hij 2 jaar met Richard Baas en enkele andere collega's van Solid Online Nederland en India een scrumteam, dat de "Flexibele E-Keten" ontwikkelde. Dit was de voorloper van de Solid Online Connector en Transformer. 
Bert was van jongs af aan al geïnteresseerd in het creëren van dingen. Tijdens zijn middelbare school knutselde hij zelf met computers omdat hij interesse in IT had, maar het vak Informatica nog in de kinderschoenen stond. Hij deed de studie(s) Business IT & Management en later via USG de masterclass Enterprise Architectuur. Bert: "Ik zocht naar een studie waarbij IT de hoofdmoot was, maar waar meer bij kwam kijken dan alleen programmeren zodat ik een breder perspectief had voor mijn loopbaan."
"Het motiveert wanneer iets wat je hebt bedacht uiteindelijk tot een werkend product, service of proces leidt dat een (klant)behoefte vervult."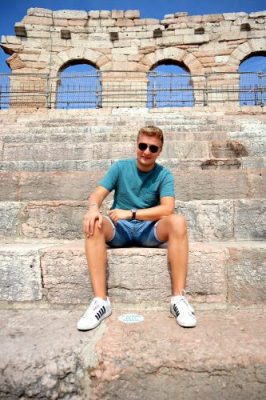 Binnen USG People maakte Bert mooie stappen in zijn carriere. "Ik ben bij USG begonnen als informatieanalist waarbij je met name bezig bent met de dagelijkse vraagstukken. Toen had ik al wel de drang om ook verder in de toekomst en vanuit een breder perspectief te kijken. Zo ben ik steeds meer in aanraking gekomen met IT architectuur en heb ik er bewust voor gekozen om mij in die richting verder te ontwikkelen. Dat heeft nieuwe kansen opgeleverd binnen USG en nu dus ook bij Solid Online."
Het op een zo'n efficiënt mogelijke manier creëren van waarde, daarin ligt de uitdaging voor Bert binnen zijn werk. "Ik vind het leuk om visies en ideeën die je hebt uit te werken in concepten en plannen om vervolgens richting te geven aan de realisatie daarvan. Het geeft een goed gevoel en het motiveert wanneer je iets wat je hebt bedacht uiteindelijk tot een werkend product, service of proces leidt dat een (klant)behoefte vervult."
Bert wil als nieuwe collega een nuchtere blik op zaken, een kritische houding en inzicht in de samenhang der dingen brengen. "Ik zie dat er veel goede stappen zijn gemaakt en mooie resultaten zijn bereikt door Solid. Daarnaast liggen er ook nog heel veel gave nieuwe kansen. Een van de uitdagingen is om de producten robuust, toekomstbestendig en veilig te houden. Het lijkt mij heel tof om met elkaar die kansen te pakken en die uitdagingen te tackelen!"
Welkom in het Solid team, Bert! Zowel Solid Online Nederland als India kijkt ernaar uit (weer) met jou samen te werken!