Our new IT Architect Bert Kamphuis is no stranger to Solid Online. For many years he worked at USG People (now RGF Staffing), one of Solid Online's largest clients. There he formed a scrum team with Richard Baas and a few other colleagues from Solid Online Netherlands and India for 2 years, that developed the "Flexible E-Chain". This was the predecessor of the Solid Online Connector and Transformer. 
Bert was interested in creating things from an early age. During high school, he taught himself how to work with computers because he was interested in IT, but Computer Science was not yet a subject in school. He studied Business IT & Management and later did the masterclass Enterprise Architecture via USG. Bert: "I was looking for a study in which IT was the main focus, but which involved more than just programming so that I had a broader career perspective."
"It motivates when you turn an idea into a working product, service or process that fulfills a (customer) need."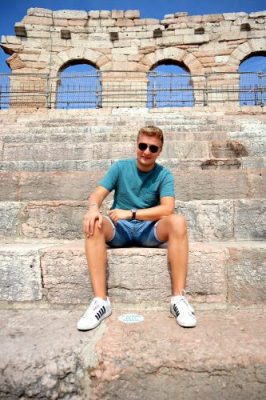 Within USG People, Bert made great career steps. "I started at USG as an information analyst, where you mainly deal with day-to-day issues. Even then I had the urge to look further into the future and to see from a broader perspective. That is how I came into contact with IT architecture and I consciously chose to further develop myself in that direction. This has resulted in new opportunities within USG and now also at Solid Online." 
Creating value in the most efficient way possible, that is the challenge for Bert within his work. "I like to develop visions and ideas into concepts and plans and then give direction to their realization. It motivates when you turn an idea into a working product, service or process that fulfills a (customer) need."
As a new colleague, Bert wants to bring a clear view at things, a critical attitude and insight into the coherence of things. "I see that Solid has taken many good steps and achieved great results. In addition, there are also many great new opportunities. One of the challenges is to keep the products robust, future-proof and safe. I think it is very cool to seize those opportunities and tackle those challenges together!"
Welcome to the Solid team, Bert! Both Solid Online Netherlands and India are looking forward to working with you (again)!