AnyLinQ heeft gekozen voor de Solid Online Connector voor een koppeling tussen AFAS (vacatures, realisatie projecten) en recruitmentsoftware Carerix. Als gegevens worden ingevoerd of gewijzigd in één van deze systemen, zijn de gegevens nu vrijwel direct te zien in beide systemen. Dit is veel minder foutgevoelig en het scheelt AnyLinQ veel tijd omdat er minder handmatige acties nodig zijn.
AFAS
–
Dé ERP totaaloplossing voor de Flexbranche. Krijg grip op kandidatenbeheer, plaatsingen, contracten, facturatie, verlonen en marge met de totaaloplossing van AFAS voor de flexbranche.

Carerix
– Gebaseerd op jarenlange ervaring biedt Carerix een modern platform dat het gehele proces van Werving & Selectie, Uitzenden en Detachering ondersteunt, vanuit één systeem
Data van AFAS naar Carerix
Binnengekomen vacatures van opdrachtgevers worden door AnyLinQ ingevoerd in AFAS. Via de Connector wordt alle informatie uit de vacature overgezet naar Carerix, inclusief de bijbehorende verkooprelatie en indien van toepassing de eindklant. In Carerix vindt het matchen van interne en externe medewerkers op deze vacatures plaats.
Data van Carerix naar AFAS
Medewerkers worden aangemaakt in Carerix. Zodra een medewerker voor de eerste keer geplaatst wordt in Carerix wordt de informatie van de kandidaat via de Connector overgezet naar AFAS. Voor medewerkers die via een leverancier komen is dat inclusief de gekoppelde inkooprelatie. Ook de documenten die benodigd zijn in AFAS worden meegenomen. Bijvoorbeeld een kopie van het uittreksel KVK, een geheimhoudingsformulier of een getekende arbeidsovereenkomst. Deze documenten worden nadien automatisch verwijderd uit Carerix, zodat ze alleen op die plek beschikbaar zijn waar ze voor de bedrijfsvoering nodig zijn, in dit geval AFAS. Wanneer de status van de vacature in Carerix wijzigt naar Afgesloten (niet-gescoord) of Gescoord gaat de verrijkte informatie terug naar AFAS. Denk hierbij aan tariefafspraken, werkafspraken en plaatsingsinformatie. Hierdoor heeft de gebruiker in AFAS de juiste data voorhanden om het project in AFAS aan te maken.
AnyLinQ heeft ervoor gekozen om AFAS het leidende systeem te laten zijn. Dit houdt in dat wijzigingen binnen bestaande vacatures (forecasts), verkooprelaties en kandidaten worden doorgevoerd in AFAS. De Connector zorgt ervoor dat deze wijzigingen binnen ongeveer één minuut zichtbaar zijn in Carerix.
De gebruiker wordt op de hoogte gehouden van de status van de gegevensoverdracht middels notities in Carerix en uitvalrapportages. Zo kan direct actie worden ondernomen indien er onjuiste of onvolledige informatie is ingevoerd.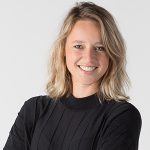 Félicienne Minnaar
Project manager bij Solid Online
"Het project voor AnyLinQ is goed verlopen. AnyLinQ gebruikte AFAS al langer, maar Carerix was nieuw voor hen. Nadat AnyLinQ met Carerix had bepaald welke functionaliteit zij in dit systeem wilden gebruiken, was het zaak Carerix en AFAS goed aan elkaar te koppelen. Hier kwamen wij aan tafel, om door middel van de Connector de gegevensoverdracht tussen de beide systemen te verzorgen. Wij hebben samen met AnyLinQ bepaald hoe de koppeling ingericht moest worden. Het is in zo'n project erg leuk om met verschillende partijen samen tot een mooie oplossing te komen zodat, nu de implementatie gedaan is, AnyLinQ kan profiteren van een best of breed pakket wat naadloos op elkaar aansluit!"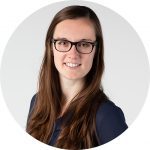 Martine Verhave
Senior consultant bij Solid Online
"Het traject voor het opzetten van de koppeling tussen Carerix en AFAS voor AnyLinQ was enorm leerzaam! Er schuilt altijd een grote uitdaging in het vooraf uitdenken van de ideale flow van de koppeling wanneer de klant nog geen gebruik maakt van één van beide softwarepakketten. AnyLinQ heeft recentelijk gekozen voor de recruitmentsoftware van Carerix voor het matchen van interne en externe medewerkers aan openstaande vacatures. Tijdens de gesprekken die ik als consultant voerde met Marcelle Paulussen en Silvia Schilder van AnyLinQ kwamen we steeds dichter bij de voor hen gewenste koppeling. De koppeling van Solid Online zorgt ervoor dat de relevante gegevens op het juiste moment worden uitgewisseld tussen de twee softwarepakketten."
AnyLinQ helpt organisaties de volgende stap te nemen in een datagedreven wereld – nu, straks en later. AnyLinQ zorgt ervoor dat klanten hun data beschikbaar hebben, goed kunnen beheren en gebruiken. AnyLinQ helpt ook met waarde te halen uit data, zodat bedrijven het verschil kunnen maken. AnyLinQ levert naast advies en ondersteuning ook specialisten aan die innovatieve projecten en diensten ontwerpen en implementeren. Hierbij maken zij gebruik van een zelf ontwikkeld model – IT.Redefined. Een nieuwe kijk op IT waar de klant écht centraal staat. AnyLinQ verbindt technologie, kennis en services.
Is uw bedrijf ook toe aan een soepel verloop tussen uw applicaties?
Wij vertellen u graag wat Solid Online voor uw bedrijf kan doen!