AnyLinQ has opted for the Solid Online Connector with an interface between AFAS (job offers, realization of projects) and the recruitment software Carerix. When data is entered or changed in one of these systems, the data can now be seen almost immediately in both systems. This avoids errors and it saves AnyLinQ a lot of time because fewer manual actions are required.
AFAS
The total ERP solution for the Flex sector. Get a grip on candidate management, placements, contracts, invoicing, wages and margin with the total solution from AFAS for the temporary employment sector.

Carerix
Based on years of experience, Carerix offers a modern platform that supports the entire process of Recruitment & Selection, Temporary Employment and Secondment, from one system 
Data from AFAS to Carerix
Incoming job offers from clients are entered into AFAS by AnyLinQ. Via the Connector all the information from the job offer is transferred to Carerix, including the corresponding sales contact and if applicable also the end customer. In Carerix, internal and external employees are matched to these job offers.
AFAS Data from Carerix to AFAS
Employees are created in Carerix. As soon as an employee is placed in Carerix for the first time, the information of the candidate is transferred to AFAS via the Connector. For employees who enter through a supplier, it includes the linked creditor. Also, the documents that are required in AFAS are included. For example, a copy of the Chamber of Commerce extract, a confidentiality form, or a signed employment agreement. These documents are automatically removed from Carerix, so that these are only available at the location where they are needed for business operations, in this case that is AFAS. When the status of the job offer in Carerix changes to Closed (not scored) or Scored, the enriched information is returned to AFAS. This includes rate agreements, work agreements and placement information. As a result, the user in AFAS has the correct data available to create the project in AFAS.
AnyLinQ has chosen for AFAS as the leading system. This means that changes to existing job offers (forecasts), sales relations and candidates are implemented in AFAS. The Solid Online Connector ensures that these changes are visible in Carerix within about one minute.
The user is kept up to date about the status of the data transfer through notes and reports in Carerix. This allows immediate action to be taken if incorrect or incomplete information has been entered.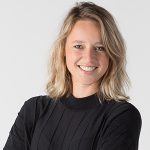 Félicienne Minnaar
Project manager at Solid Online
"The project for AnyLinQ went well. AnyLinQ was using AFAS already, but Carerix was new to them. After AnyLinQ determined with Carerix which functionality they wanted to use in this system, it was important to link Carerix and AFAS properly. This is where we entered, to take care of the data transfer between the two systems by means of the Connector. Together with AnyLinQ, we determined how the interface should be set up. In such a project it is very nice to work with different parties to come to a good solution. So now that the implementation is done, AnyLinQ can benefit from a best of breed package that connects seamlessly!"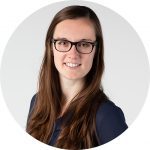 Martine Verhave
Senior consultant at Solid Online
"The process for setting up the connection between Carerix and AFAS for AnyLinQ was great learning experience! It is always great challenge in figuring out the ideal flow of the connection in advance, especially when the customer does not yet uses one of the two software packages. AnyLinQ recently opted for the recruitment software from Carerix to match internal and external employees to job offers. During the conversations I had as a consultant with Marcelle Paulussen en Silvia Schilder of AnyLinQ, we got closer and closer to the desired connection. The interface of Solid Online ensures that the relevant data is exchanged between the two software packages at the right time."
AnyLinQ helps organizations to take the next step in a data-driven world – now, later and in the future. AnyLinQ ensures customers to have their data available, so that they can manage and use it properly. Anylinq also helps to extract value from data, so that companies can make a difference. In addition to advice and support, AnyLinQ also offers specialists who design and implement innovative projects and services. They use a self-developed model which is called IT.Redefined. A new look at IT where the customer really comes first. AnyLinQ connects technology, knowledge, and services.
Is your company also ready for a smooth transition between all your applications?
We would love to tell you what Solid Online can do for your company!